Managing People Risk through Integrity -
Shrinkage in Retail
---
50 billion dollars are annually lost by Retailers which can be attributed directly to employee theft.
Why do companies & employers find themselves in this position?
Can the situation be reversed thereby contributing positively to the bottom-line?
According to the "Global Retail Theft Barometer study of 2014/2015", retailers globally lose 123,4 billion USA dollars annually due to "shrinkage". Close to 40% is caused by employee theft, followed by 38% due to shoplifting with a further 7% resulting from supplier fraud with the remainder representing admin errors.
To put this into perspective, one of the largest retailers in Africa, with an employee complement of 110 000+ employees, had a turnover of R113 billion (8,5 billion USA dollars) in 2015 and shrinkage of approximately R2 billion (150 million US dollars). Applying the outcome of the above-mentioned study, employee theft resulted in a loss of R793 million (40% of shrinkage of R2 billion or 61 million USD.)
Irrespective of the size of the company, the financial impact in terms of what is written off is huge; capital which could have been used for investing into value adding strategic decisions as opposed to cost of Sales.
The question is this: If the % shrinkage is in line with international standards,
why bother versus is a potential saving of R400 million big enough to force us to rethink our approach & strategy?
---
Why do companies & employers find themselves in this position?
While retailers utilise various methods to try and stem the tide, we are not sufficiently addressing the root cause of the challenge; people.
Or put differently, employing people with adequate levels of integrity. If you employ People with a high propensity for deviant behaviour your risk will be far greater than if you employ people with a low tolerance for dishonesty, as demonstrated in the schematic bell curve below: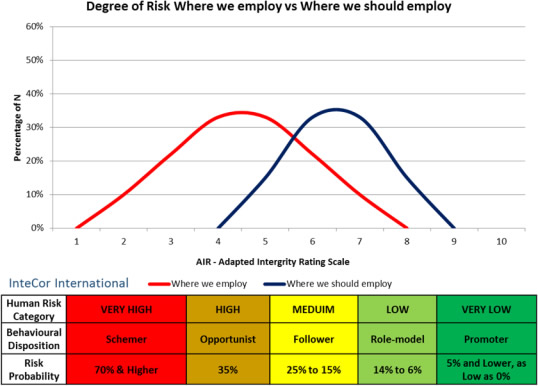 So what behavioural patterns
do people with a low level of integrity versus
those with a high level of integrity display?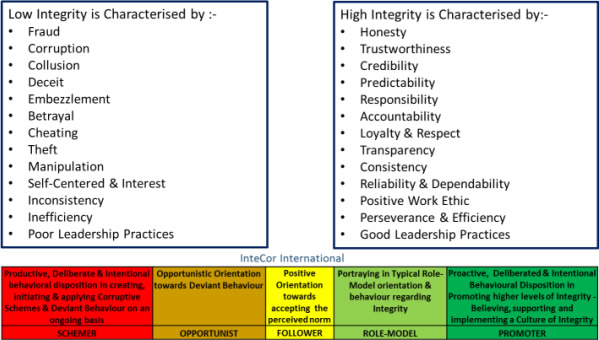 Who we employ to represent our "Brand" has a direct correlation with how valuable it is perceived to be in the market place.
"Brand" is about reputation. Reputation is about trust. Trust is Integrity and ethics, how we apply ourselves in our daily interactions with stakeholders;
from a long-term sustainability perspective where have we positioned our "Brand"?
Can the situation be reversed
thereby contributing positively to the bottom-line?
When Warren Buffet quoted: -
"Look for three things in a person; intelligence, energy & integrity. If they don't have the last one, don't bother with the first two".
Few people understood at the time, that it would become even more important for the future, as demonstrated by the latest global scandals of greed, immorality etc.
Integrity is considered to be an important, if not
the most important concept in the world today with specific reference to the "world of work".
People know instinctively know when other people or organisations have and function with integrity and they prefer to associate with and deal with individuals and /or organisations with integrity.
A reduction of 50% in employee theft, which is attainable, could contribute close to R400 million (31 million dollars) to the bottom-line of the company annually.
It all depends on the
degree of "People Risk" we are prepared to take.
If we want to improve our financial position; build our "Brand", improve the return on investment for our shareholders; create a better and safer environment for our employees and build our "Brand," it is critical to understand what people risks we can manage more effectively.
The key one is to employ people with higher levels of integrity and values that are aligned to the "world of work", this will minimise shrinkage; which will have a direct impact on financial outcomes.
It is all about "People" -
As the first step in the recruiting process, "Value Based Integrity Assessments" has assisted many companies globally to manage their single biggest controllable risk in such a manner that long term sustainable profitability is not only achieved, but exceeded.
For "Business Benefits" across industries, read more here