Transport Logistics -
highly competent and trustworthy "drivers" is the single biggest differentiator for Long Term Sustainability
---
Have you ever watched a highly competent "driver" of a 26+ wheeler long-haul truck or huge double decker bus delicately manoeuvre through the traffic, go around 90 degree turns, reversing, changing lanes, judging available space, trying to anticipate the behaviour and actions of other road users and the potential unintended consequences, simultaneously keeping the load and/or passengers safe & intact and sticking to time-lines. The same applies to taxi "drivers" who for every moment, whilst behind the wheel, must consider the shortest, safest and most time effective route; it is an unappreciated "art".
There is no doubt that highly competent "drivers" improve "profitability", build "brand" awareness and achieve high "Customer Satisfaction Ratings" that lead to long term Sustainability.
The question which requires clarification is; "what makes one "driver" more successful than the next? The "Drivers Assessment Profile" incorporates the most critical attributes a successful "driver" would require to function optimally?" To answer the question, let's have a look at the Operating Environment, the Business Benefits, the Risks & Stresses and finally the key "driver" attributes!
---
Operating Environment
Transport Logistics, mining, and production companies operate in environments which are highly specialised, extremely competitive and normally requires huge capital outlays. High customer expectations i.t.o. timely deliveries, variables such as fuel and& maintenance costs, lack of public supporting infrastructure, environmental risks, and regulatory requirements make these industries some of the most challenging to operate in.
Yet, while automation, system enhancements, software tracking developments etc. have gone a long way in managing the Transport Logistics supply chain more efficiently and effectively, we are still highly dependent on people who perform this very important "driver" function as a professional career.
What are the Business Benefits which "Highly Competent Drivers" bring to the table?
Highly competent and successful "drivers" are worth their weight in gold for companies. Whether you are the "driver" of a long-haul truck, transporting hazardous material or a "machine operator" operating a highly specialised and expensive piece of mining equipment or a "bus and/or taxi driver" who must ensure the safe and timeous arrival of their passengers, research over many years, has proved that the positive spinoffs of having a highly competent fleet of "drivers" is the single biggest differentiator in terms of the level of success achieved.
Great "drivers" build the "Company Brand" through improved customer service - their ability to deal customer interactions in a more professional manner making sure that deliveries are done in time resulting in less customers complaints and more compliments, they have less accidents resulting in lower insurance cost, are less frequently reported by other road users for "poor" driver evaluations, are less likely to have a loss or partial loss of load, fuel pilferage are non-existent, manage to achieve lower fuel consumption, take better care of the expensive vehicle which has been entrusted to them resulting in lower maintenance cost and, last but not least, tend to have longer tenure. "Drivers" who fall in the above-mentioned categories are less absent, prepared to do more, seldom late and less frequently investigated for non-adherence resulting in disciplinary hearings.
Risks and Stresses
Being a great "driver" is a highly skilled job. But over and above how the success of a "driver" is evaluated, "drivers" also must deal with certain Risks & Stresses unique to this career path. Risks are high - when a "driver" of a long-haul truck makes an accident, not only does the company lose hundreds of thousands of dollars in the vehicle being written off (even if it is covered by insurance, insurance costs increase), the customer is being inconvenienced in terms of sales or production losses, but even worse human fatalities sky rockets. When a "driver" with a hazardous load loses control and lands in a river, the potential environmental damages could close the company doors. Years of litigation, claims etc. will follow! Over and above the risks involved above, "drivers" also must overcome challenges relating to the "stress factors" as depicted below:
Which attributes (characteristics, abilities, skills, competencies & personality traits) are critical to be successful?
Years of research in the transport and other related industries has proved that highly competent drivers, over and above being technically competent, also inherently have a combination of cognitive abilities, have a high level of integrity and work ethic, experience and skills as well as key personality traits as depicted in the High-Level Schematic Overview below: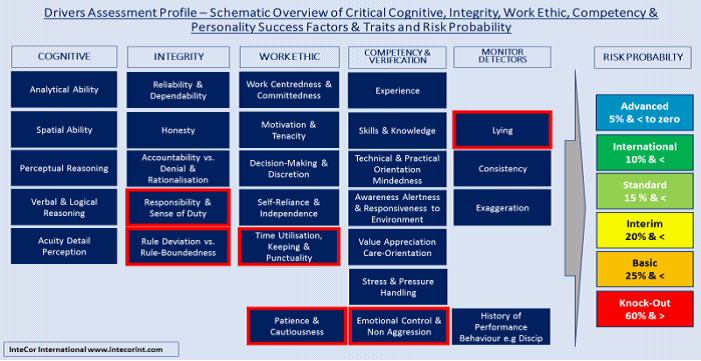 What does this mean in practical layman terms?
Cognitive Abilities:
Cognitive - Research shows that certain mental strengths are more important than others in the effective performance of the "driver" function.

Integrity: In terms of the personality factors, Integrity is perhaps the single most important concept in determining the success of the "driver". The driver often functions on his own; not under direct and close control of someone else (e.g. a supervisor or manager) and is in control of an expensive vehicle or piece of equipment and is largely responsible for his own performance and success.
INTEGRITY - Integrity is the single most important concept used to determine the success of the "driver" as the "driver" functions on his own, is in control of an expensive vehicle or piece of equipment, and is largely responsible for his own performance and success.

It is normal for "drivers" with high levels of Integrity to demonstrate the charachteristics as reflected on the right side of the schematic below in both their work and personal lives, while "drivers" with low levels of Integrity tend to migrate to the left.
Low Integrity is Charactersided by:-
Fraud
Corruption
Collusion
Deceit
Embezzlement
Betrayal
Cheating
Theft
Manipulation
Self-centered and interest
Inconsistency
Inefficiency
Poor leadership
Low Integrity is Charactersided by:-
Honesty
Trustworthiness
Credibility
Predictability
Responsibility
Accountability
Loyalty and respect
Transparency
Consistency
Reliability and dependability
Positive work ethic
Perseverance and efficiency
Good leadership practices
It is therefore logical that "drivers" fitting into the High category will be more trustworthy, will have less turnover, will drive the extra mile and will be less likely to demonstrate counter-productive work behaviour.
Work Ethic:
A "driver's" level of success is, among other things, determined by their basic orientation to the entire concept of work, not only from a general perspective but also including those critical differentiating factors which are specific to the "drivers" job type.
Technical Competency and Verification and Personality Traits:
Technical Competency, Verification and Personality Traits - Can be discussed and verified prior to/during interview; assessing the history, orientation, attributes, skills and competencies of the candidate. These factors differentiate directly and conclusively on the critical areas, the person's fit to the "driver profile"
Monitor and Risk Probability
Research has proved that roughly 55% of applicants for new jobs inflate the information contained in their CVs. Therefore, irrespective whether the "driver" might have passed the physical driving test with flying colours and continues to operate adequately during a short-term contract period (it is human nature to try and do your best during this period), it does not provide sufficient evidence of how he/she will react in the various circumstances and crises he/she will come across in their day-to-day activities. So, the purpose of the "monitor" is to validate the reliability of the information supplied by the "driver" which, without the "risk" of accepting on face value that what you were told is correct, is just too high!
Lie detector: assessing the degree to which the driver was open-minded, truthful & honest in providing the information on him/herself in proving information during the assessment process
Consistency: assessing the degree to which the driver is in command of the language used in the assessment process & how well he/she comprehended the meaning of each question and the purpose of the test
Unnatural exaggeration: assessing the degree to which the driver is prone to inflating the information he/she supplies in the test
What makes one "driver" more successful than the next - The Bottom Line
Following years of research, the "Driver's Assessment Profile" has proved that the combination of attributes, abilities, competencies, personality traits and monitoring potential provides one of the best predictors of job success in the "driving Fraternity," which ultimately leads to long-term profitable sustainability.
Not only does the "DAP" provide a one pager reflecting the scores of the respective sub-structures which allows you to understand the strengths and areas of development of the potential "driver". It also provides you with a "Risk Probability Factor" which can be used in alignment with the level of "risk" the company is prepared to take. Understand the risk you take by employing a "driver" who might be technically competent but is low on the identified personality traits or who's level of Integrity is inadequate. Select, recruit and manage "drivers" according to their abilities.
For "Business Benefits" across industries, read more here